Luang Namtha is Laos' best known trekking destination. Trails take you to the jungles of the Nam Ha National Protected Area, with overnight stays in ethnic communities and camping options available. For overnight trekking and trekking inside Nam Ha NPA, tourists must book with a tour company.
Nalan Trail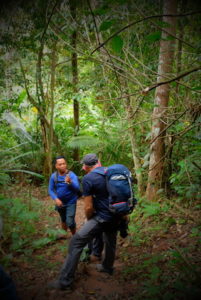 One of the popular trails is the Nalan Trail, taking you to a remote Khmu village on the banks of Nam Ha River where you can stay overnight. This trail also can be coordinated with a day of kayaking down the Nam Ha River.  It is a diverse day, starting with a drive out of town through rice fields, stopping at the Ban Phieng Ngam Weaving Center to see the how the Tai Daeng people make their colourful textiles, then onto the high point to start the trail. At first through a cooler forest, your guide will show you the diversity and uses of many plants you pass by. Lunch time is always interesting on a trek in Laos, guides seem to be able to pull together the most amazingly presented meal with just a knife! After lunch you descend to follow the stream, here you are way below the canopy of grand old trees, it is a beautiful area. At the last section you come out through a cardoman forest, to the Nalan village. It is a very peaceful and bountiful area. The locals have built small houses for you to stay and they benefit from your visit.
Other Trekking Exploration around Luang Namtha Province

Luang Namtha
Explore the Nam Ha Biodiversity Conservation Area – one of the most popular trekking locations in Laos. Day and overnight trek available. Book through local tour companies on the main street in Luang Namtha Town. Stay in jungle camps, eco-lodge or village homestays. Meet with remote Khmu, Lanten, Akha and Lao Huea communities along the way.
Sing District
Encounter Akha, Tai Lue and Yao ethnic communities when trekking around Sing District. See traditional customs and lifestyle still in place today.
Vieng Phoukha
Trekking from Vieng Phoukha combines an experience of Khmu, Akha and Hmong villagers with waterfalls and caves along the way.
Long District
Your overnight trip from Luang Namtha takes you to the sacred mountain of Phoupha Kham and to meet the Chongka village group of Akha and Hmong communities. Long Town is just over 100km from Luang Namtha Town.
Nalae District
Nalae District is home to Khmu people, located about 73km from Luang Namtha Town. After visiting the local information centre, your trek will meander amongst hill country, encountering Khmu tribes, caves and waterfalls and forest remnants before returning to Nalae District.